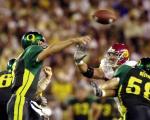 1. Joey Harrington - Oregon
Harrington has improved his mechanics 100% from last season. Instead of winding up before the throws the ball, he now has it cocked by his ear which has made his release very quick. He has a strong enough arm to throw all the skinny posts and deep outs required in the NFL. His decision making is exceptional. His best qaulity, however, is his leadership. His teamates respect him and beleive in him. He wants the ball at the end of a game with a chance to win. He understands better than most that the goal is to win, and he understands better than most how to win. He is obviosly very coachable, so in the right NFL system with the right Offensive Coordinator he could be something special.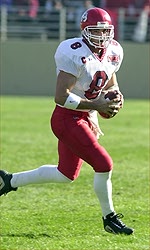 2. David Carr - Fresno State
Every year we hear about the QB that is "Most ready to play in the NFL right now." That, of course, is a lie. In the last 20 years there have been two QB's that were ready to play in the NFL right out of college...Dan Marino and Peyton Manning. This year my guess is the word on Fresno's David Carr is that he will be the "Most ready to play" guy in the draft. He is very impressive and is probably the closest thing there is to a finished product at the QB position. Like Harrington his strongest attribute is his leadership. His arm isn't too bad either. He has the ability to throw lasers to receivers that seem to be covered. That is something he can get away with at Fresno, but will hurt him if he continues that habit at the next level. He is nifty in the pocket and throws well on the run. Some team in the first round (maybe Houston with pick #1) will tab this guy as their franchise QB, and he might just turn out to be that.
3. Byron Leftwich - Marshall
Leftwich is a poor man's Daunte Culpepper. He is big, stong, fast, athletic and has a cannon for an arm. He isn't really ready to play in the NFL yet, but he has what every NFL scout loves...UPSIDE! Given the right situation, and chance to sit on the sidelines for a year or two and learn, this guy could be a very good NFL QB...some day. Whatever team selects Leftwich needs to show patience with this kid and then unleash him when he is ready. Could be a good pick for someone like Miami who has a servicable QB now but will need a replacement in the near future.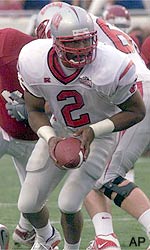 4. Jason Thomas - UNLV
Thomas is still very raw, but one can see a little Donovan McNabb in him. He is not your traditional five-step-drop, pocket passer but he does have a good arm and has knack for making big plays with either his arm or his legs.
5. Carson Palmer - USC
Palmer has never really lived up to expectations at USC, but possibly those expectations were too high. The fact is he has been very productive and his mechanics are solid. He is an accurate passer and would fit well in a West Coast offense.
6. David Garrard - East Carolins
Has also been compared to Culpepper. Big and strong with a good arm. Lacks the ability right now to read defenses well and doesn't always make the best touch passes. Has big time ability and good leadership skills. He is a project, but possibly a project worth taking a chance on in the late rounds.
7. Chris Simms
I know if he comes out he will get drafted before all of these guys, but I'm not sold on him yet. I'm not even sure he is the best QB on his college team. I'm still trying to figure out how Major Applewhite lost his job to this guy. He has all the tools, strong arm, football smart, mobile. I have seriuos questions about his leadership and the respect he gets (or doen't get) from his teamates. Jeff George has all the pysical skills too, but has never been a success in the NFL. I'm not ready to compare Simms to George just yet, but I haven't seen anything from him that is going to make me compare him to his father Phil Simms either.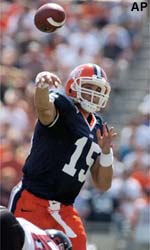 8. Kurt Kittner - Illinois
Kittner is very smart, reads defenses well and is a very accurate thrower. He doesn't have the biggest arm in the world, but he almost never makes a bad throw. He has a very good sense of what he can and can't do and never tries to do too much. By the same token, he is probably not a franchise type QB, but would be a good backup.
9. Dave Ragone - Louisville
Scouts love his size and his mechanics. Most people beleive he is a better college player and a better NFL prospect than former Louisville QB and current Baltimore Raven Chris Redman.
10. Rohan Davey - LSU
I love this guy. He doesn't look pretty doing it, and you are never really sure how he did it, but he always gets it done. If you put former LSU QB Josh Booty and Davey side-by-side and run drills all day you would play Booty and never give it another thought. Get them in a game however and Davey is the man you want. The players love playing with him and have tremendous confidence in him. He will make plays both running and passing, and will play hard from start to finish. He seem coachable and to me has tremendous NFL upside.